BPH Patients Experience Best-in-Class Symptom Relief with Rezūm Therapy, Latest Study Shows
So, you're ready to take the next step to treat your benign prostatic hyperplasia. (That's the medical term for BPH or enlarged prostate.) Maybe your medications are no longer working. Or maybe your symptoms have you up all night going to the restroom. But where do you start in looking at your options? 

Medications for BPH May Not Work
First, you should know that BPH is very common in men. In fact, it affects half of all men by age 60. And it affects up to 90 percent of men by age 85.1 Medications to treat BPH may not work for many. Or many men don't like the side effects.2 And some procedures only treat the symptoms, not the BPH. That leaves many men searching for alternative treatements for enlarged prostate.

Rezūm Water Vapor Therapy Shrinks the Prostate
Rezūm Water Vapor Therapy is a BPH treatment that can be done in your doctor's office. It uses water vapor, or steam, to shrink enlarged prostates.3,4 Shrinking the prostate can relieve your symptoms. But how long does it last? 
 
Recently, a clinical trial looked at how long Rezūm Therapy results last in BPH patients out to five years. The trial showed that Rezūm Therapy significantly relieved their symptoms.5 It also showed that the enlarged prostate treatment results lasted five years for the majority of patients. Third, the trial found that Rezūm Therapy improved their general quality of life.  

Following the Rezūm procedure, some of the following short-term side effects may occur: painful urination, blood in the urine, blood in the semen, frequent urination, inability to urinate or completely empty the bladder, and need for short-term catheterization. Most of the events typically resolve within one to three weeks after the procedure, but there is a possibility some of these effects may continue for longer periods of time.

About Clinical Trials
Clinical trials are important in healthcare. They help us find out if new therapies are safe and effective. Often, a clinical trial helps us learn if a new treatment is more effective and/or has fewer side effects than another treatment.6  
 
Most doctors rely on clinical trial results and articles in peer-reviewed journals to evaluate treatment options and ensure they maintain quality standards for their patients.

Rezūm Therapy, a Leading In-Office BPH Treatment
The Rezūm Therapy II trial followed 135 men at 15 sites in the U.S. It looked at patients' BPH symptoms, their quality of life and if they sought other BPH treatments following the Rezūm Therapy procedure. The trial tracked them for five years after they received Rezūm Therapy.
The trial found that patients had long-term BPH symptom relief and improved quality of life. In the five years after Rezūm Therapy, only 4.4% of patients had another surgery for BPH symptoms.5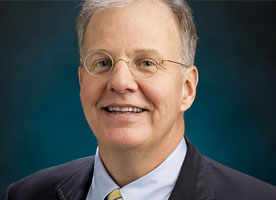 Kevin McVary, MD, urologist and principal investigator of the Rezūm Therapy II clinical trial

Testimony from a Urologist
A world-renowned urologist, Dr. Kevin McVary, is a leader in BPH treatments and the principal investigator of the Rezūm Therapy clinical trial. He uses Rezūm Therapy in his practice and recently treated a patient who was also a busy physician. The physician had severe BPH symptoms and was seeking enlarged prostate treatment. Medications weren't working for him. "He had Rezūm Therapy and was back to work in his busy office practice. He was taking care of his own patients in the OR after a weekend," said McVary. "He was also able to stop taking all of his BPH medications. This was a nice outcome and showed the fast recovery found with Rezūm Therapy in this patient." Individual results can and do vary.

For More Information
It's important to note that not all patients are alike. Treatment plans should be discussed with your own doctor. For more information or to find out if Rezūm Therapy is right for you, use this discussion guide in your next appointment with your doctor or find a doctor near you. 

Do you have BPH?
Take our BPH quiz to gain insight into the severity of your symptoms and help kick-start the conversation about BPH with a doctor.

I Want to Learn More
Sign up to receive information and learn how Rezūm Water Vapor Therapy helps patients with their BPH.
Find a Doctor
Use our Doctor Finder to get in direct contact with urologists who specialize in using Rezūm Water Vapor Therapy to treat BPH. 

References:
Harvard Health Publishing. The growing problem of an enlarged prostate gland. https://www.health.harvard.edu/mens-health/the-growing-problem-of-an-enlarged-prostate-gland.

Data on File with Boston Scientific.

McVary KT, Rogers T, Roehrborn CG. Rezūm water vapor thermal therapy for lower urinary tract symptoms associated with benign prostatic hyperplasia: 4-year results from randomized controlled study. Urology. 2019 Apr;126:171-9. 
McVary KT, Gange SN, Gittelman MC, et al. Minimally invasive prostate convective water vapor energy ablation: A multicenter, randomized, controlled study for the treatment of lower urinary tract symptoms secondary to benign prostatic hyperplasia. J Urol. 2016 May;195(5):1529-38. 
McVary KT, Roehrborn C. Five year results of the prospective, randomized controlled trial of water vapor thermal therapy for treatment of lower urinary tract symptoms due to benign prostatic hyperplasia. Late-Breaking Abstract. J Urol. 2020 Apr;203(4):e1021.


National Institute on Aging; What are Clinical Trials and Studies? https://www.nia.nih.gov/health/what-are-clinical-trials-and-studies.
All treatments have inherent and associated risks. The Rezūm System is intended to relieve symptoms, obstructions, and reduce prostate tissue associated with BPH. It is indicated for men ≥ 50 years of age with a prostate volume 30cm3 ≤ 80cm3. The Rezūm System is also indicated for treatment of prostate with hyperplasia of the central zone and/or a median lobe. Potential risks include but are not limited to painful urination (dysuria), blood in the urine (hematuria), blood in the semen (hematospermia), decrease in ejaculatory volume, suspected urinary tract infection (UTI), and urinary frequency, retention or urgency. You should talk with your doctor about benefits and risks before moving forward with any treatment option.
Caution: U.S. Federal law restricts this device to sale by or on the order of a physician.
Content on this web page is for Informational Purposes only and does not constitute medical advice and should not be used for medical diagnoses. Boston Scientific strongly recommends that you consult with your physician on all matters pertaining to your health or to address any clinical/medical questions.
All images are the property of Boston Scientific. All trademarks are the property of their respective owners.
Rezum.com is a website sponsored by Boston Scientific.