BPH Medications: Considering Your Treatment Benefits and Potential Side Effects
Are you among the 14 million men in the United States living with benign prostatic hyperplasia (BPH)?1 BPH, or an enlarged prostate, is a non-cancerous growth of the prostate gland.2 Depending on the severity of your BPH, a doctor may prescribe medication, a minimally invasive treatment or surgery. With various BPH treatments available, it can be confusing to understand the best option for you. Medication is a common solution, but it's important to understand the potential benefits and side effects.
How did I get BPH?
Your prostate doubles in size in your teens, then continues to grow for the rest of your life.3 Eventually, an enlarged prostate can squeeze down on the urethra – the small tube that transports urine from the bladder out of your penis – causing the flow of urine to be restricted, which is a symptom of benign prostatic hyperplasia or BPH.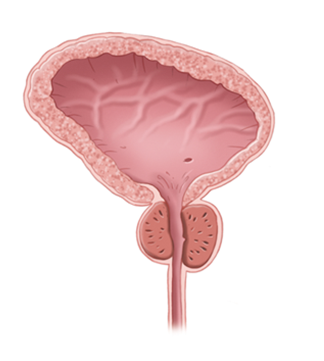 Normal Prostate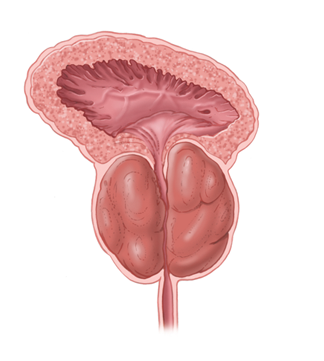 Enlarged Prostate

Enlarged Prostate Medication
If your symptoms are moderate, your doctor will most likely recommend a BPH medication treatment plan.4 While medication may improve your symptoms, the potential side effects can be a drawback. It's important to speak with your doctor about how a prescribed medication works, possible side effects and any other things you should know beforehand. 
Commonly prescribed medications for BPH include:1,4
Alpha blockers like alfuzosin (Uroxatral®), tamsulosin (Flomax®, generic), silodosin (Rapaflo®), doxazosin (Cardura®, generic) and terazosin (Hytrin®)
5-Alpha reductase inhibitors like finasteride (Proscar®) and dutasteride (Avodart®)
These medications work differently to treat the symptoms associated with BPH and can have different potential side effects. All medicines have benefits and risks. Be sure to ask about the prescription's side effects, as well as any interactions it may have with your current medications and supplements. Below is a snapshot to help you get a better understanding of the two main types of medications typically prescribed for BPH.
Alpha Blockers1,5

There are two types of alpha blockers – selective and nonselective. Selective alpha blockers such as Flomax, Uroxatral and Rapaflo work by loosening the muscles of the urinary tract so that urine can flow freely. These work only on the muscles and tissue of the urinary tract. Alternatively, nonselective alpha blockers such as Cardura and Hytrin affect both the muscles and tissue of the urinary tract and other tissues elsewhere in the body in the same manner.
Potential common side effects of alpha blockers:6-10
Dizziness, headache, fatigue
Dry mouth, nasal congestion and swelling of the face, tongue or throat
Diarrhea
Abnormal ejaculation or dry orgasm (semen enters the bladder instead of releasing from the penis during ejaculation)
Erectile dysfunction (ED), trouble getting or maintaining an erection
Low blood pressure with nonselective alpha blockers like Hytrin and Cardura
5-Alpha Reductase Inhibitors1
These medications block the conversion of testosterone into dihydrotestosterone (DHT), which is a hormone that causes the prostate to grow. By blocking this action, these drugs may eventually help the prostate shrink in size. 5-alpha reductase inhibitors can take up to six months or in some cases, even longer to show an improvement in flow of urine.
Potential common side effects of 5-alpha reductase inhibitors:11,12
Erectile dysfunction (ED), trouble getting or maintaining an erection
Decrease in sex drive
Decreased volume of ejaculate
Ejaculation disorders, such as retrograde ejaculation or premature ejaculation
Breast disorders (painful or enlarged breasts)
Depending on your enlarged prostate symptoms, your doctor may also recommend taking an alpha blocker and a 5-alpha reductase inhibitor as a combination therapy.4
Which enlarged prostate treatment is best for you?
Drugs for enlarged prostate can help manage BPH symptoms but also have several potential side effects as noted above. A minimally invasive procedure such as Rezūm Water Vapor Therapy can be a potential treatment option for those who may be tired of medications, frustrated with side effects of medications and are looking for more durable relief. Rezūm Therapy is an in-office procedure for men 50 years or older that treats the cause of BPH.  It uses the natural energy stored in water vapor to remove the excess prostate tissue bearing down on the urethra. A recent five-year clinical study showed that Rezūm Therapy successfully reduces prostate volume and significantly relieves BPH symptoms while preserving sexual function out to five years.13 Hear more from Rezūm Therapy patients. 
Most patients report relatively minor discomfort during the procedure. *Potential risks associated with Rezūm Water Vapor Therapy include but are not limited to painful or frequent urination, blood in the urine or semen, decrease in ejaculatory volume, urinary tract infection (UTI), inability to urinate or completely empty the bladder, and urgent need to urinate. A complete list of risk information can be found here. During healing, symptoms may continue or worsen. Most men require a catheter for several days post-procedure.13,14
It's important to speak with a doctor to understand all BPH treatment options available to you, including their benefits and side effects. Find a doctor near you.

* Dependent on individual clinical situation and healing response.

Find a Doctor
Use our Doctor Finder to get in direct contact with urologists who specialize in using Rezūm Water Vapor Therapy to treat BPH. 

Read more about medications for BPH
References:
Your benign prostatic hyperplasia medication: When to consider a change. Harvard Health Publishing. https://www.health.harvard.edu/blog/your-benign-prostatic-hyperplasia-medication-when-to-consider-a-change-2009031134. Last accessed September 27, 2021. 

Benign Prostatic Hyperplasia. Johns Hopkins Medicine. https://www.hopkinsmedicine.org/health/conditions-and-diseases/benign-prostatic-hyperplasia-bph. Last accessed September 27, 2021. 

Jarvis TR, Chughtai B, Kaplan SA. Testosterone and benign prostatic hyperplasia. Asian J Androl. 2015;17(2):212-6.

Management of Benign Prostatic Hyperplasia/ Lower Urinary Tract Symptoms: AUA Guideline 2021. American Urological Association. https://www.auanet.org/guidelines/guidelines/benign-prostatic-hyperplasia-(bph)-guideline. Last accessed September 27, 2021. 

Schoenfeld MJ, Shortridge EF, Gelwicks SC, Cui Z, Wong DG. Treatment Patterns in Alpha-Blocker Therapy for Benign Prostatic Hyperplasia. Am J Mens Health. 2014 May;8(3):267-72. 

CARDURA U.S. Patient Product Information. Pfizer Inc. http://labeling.pfizer.com/ShowLabeling.aspx?id=538. Last accessed November 16, 2021

Hytrin Insert. Abbott Laboratories. https://www.medicine.abbott/content/dam/bss/divisionalsites/epd/productpdf/Hytrin%20Insert.pdf. Last accessed November 16, 2021.

Flomax Patient Information. Boehringer Ingelheim Pharmaceuticals, Inc. https://docs.boehringer-ingelheim.com/Prescribing%20Information/PIs/Flomax%20Caps/Patient%20Info/Flomax%20Patient%20Information.pdf?DMW_FORMAT=pdf. Last accessed November 16, 2021. 

Rapaflo Prescribing Information. Allergan, Inc. https://media.allergan.com/actavis/actavis/media/allergan-pdf-documents/product-prescribing/RAPAFLO-PLR-06-2017-(003).pdf. Last accessed November 16, 2021.

Uroxatral Prescribing Information. sanofi-aventis U.S. LLC. https://products.sanofi.us/uroxatral/uroxatral.html. Last accessed November 16, 2021.   

Proscar Tablets Patient Information. Organon Global Inc. https://www.organon.com/product/usa/pi_circulars/p/proscar/proscar_ppi.pdf. Last accessed November 16, 2021. 

Avodart Consumer Medicine Information. GlaxoSmithKline plc. https://au.gsk.com/media/6268/avodart_cmi_au_009_approved.pdf. Last accessed November 16, 2021.

McVary KT, Gittelman MC, Goldberg KA, et al. Final 5-year outcomes of the multicenter randomized sham-controlled trial of Rezūm water vapor thermal therapy for treatment of moderate-to-severe lower urinary tract symptoms secondary to benign prostatic hyperplasia. J Urol. 2021 Sep;206(3):715-24. 
Mooney R, Goldberg K, Wong D, et al. Convective radio frequency thermal therapy for treatment of benign prostatic hyperplasia: single office experience with 255 patients over 4 years. Urol Pract. 2020 Jan;7(1):28-33.

Caution: U.S. Federal law restricts this device to sale by or on the order of a physician.
Content on this web page is for Informational Purposes only and does not constitute medical advice and should not be used for medical diagnoses. Boston Scientific strongly recommends that you consult with your physician on all matters pertaining to your health or to address any clinical/medical questions.
All images are the property of Boston Scientific. All trademarks are the property of their respective owners.
Rezum.com is a website sponsored by Boston Scientific.